LHS Science Teacher Wins Regional Teacher of the Year Award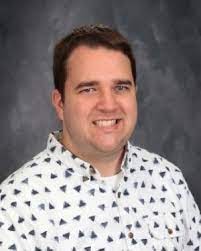 Ten teachers have received the St. Louis Regional Teacher of the Year award over the summer. One of them was Mr. Dan Dougherty, chemistry and physical science teacher at LHS since 2014.
With a Bachelor of Science in Chemistry Education from the University of Missouri -St. Louis and working toward a Master of Science in Chemistry at Missouri State University, Mr. Dougherty's knowledge of science is one of the best, according to Dr. Greg Fick, LHS Junior Class principal. 
"His love of science goes into all of the extensive planning he does for each class," said Dr. Fick, "and his care for the subject matter he's teaching."
His care goes beyond science though, said Dr. Fick. He makes sure to connect with each student personally and he believes that this dedication to the wellbeing of his students drives them to be more motivated in his class. 
"I strive to make personal connections with each one of my students and make the subjects I teach as engaging as possible," said Mr. Dougherty. 
Eleventh-grade student Olivia Sulkin said one of her favorite parts about being his student is "He reminds us each Tuesday that he cares about us, each and every one of us, and he is there if we need anything."
"He is certainly one of the finest teachers I've worked with," said Dr. Fick. With this being the first school Mr. Dougherty has ever taught at, he's made quite an impression so far and dedicates most of his teaching knowledge to his colleagues. He is described as an outstanding teacher by Dr. Fick and everyone seems to agree with this assessment. 
While Dr.Fick wasn't expecting Mr.Dougherty to get the regional teacher of the year award he wasn't surprised either. And the same goes for Mr.Dougherty who said "I was very surprised to receive the teacher of the year award for the high school." After filling out the application for the Regional Teacher of the Year award, he was even more surprised to find out that he had won along with nine other teachers.
Leave a Comment