Homecoming: A Recap of Lindbergh High School's Week for the Books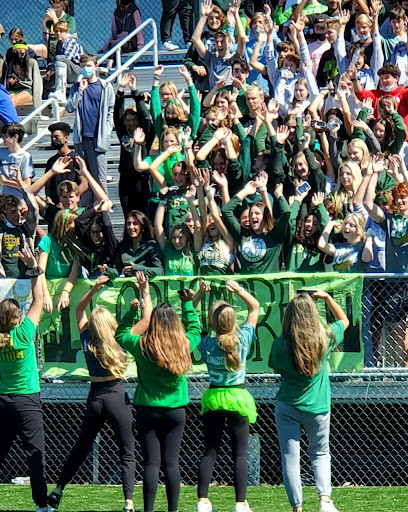 Last year was a time in which everyone was left in the dark. People didn't know what would be happening, and what wouldn't. It came to be that through the year, nothing would happen. 
This year, however, the students of Lindbergh High School finally got to experience the full blast of a normal year, specifically the excitement of Homecoming. The action-packed week started off as a spirit week and quickly ran into back-to-back activities, all put together by the students of STUCO, or LHS's Student Council.
"[STUCO] puts a lot of stress on themselves to make things as perfect as possible. A lot of times they stress out over things that nobody else will even notice because it's so small. They really do try to put a lot of effort into it, and they want to make sure things are perfect," says Mr. Mark Pfeiffer, the STUCO sponsor, and teacher at LHS
On Thursday (Sept. 23), the first activities commenced, and the day started off with a Homecoming Pep Rally and ended with the Powderpuff games. During the Pep Rally, students filled the bleachers and the football field to watch friendly competitions between each grade for points that add up for Battle of the Classes. At the end of the day, junior and senior girls took their teams back to the football field to play flag football, which was run by STUCO chair member Emma Watz (10). 
"The planning for Powderpuff is something that definitely takes a lot of little things that need to be planned beforehand. In Student Council, you will get a chair report from the last person who did it. I was fortunate enough to have done it last year, so I already kind of knew what I was doing. You have to set up the big thing, which is getting all the teams and all of the participants of the teams to know how many people are playing. The planning is a lot of pre-stuff," Watz said.
Friday (Sept. 24) remained calm as students waited for the final bell to ring. When it finally did, they were available to go to Sperreng Middle School to participate in the Homecoming Parade. The parade was complete with floats for each class, the dance and cheer team, and cars for every couple on Homecoming Court. The set-up is arguably one of the most stressful tasks STUCO sets.
"I don't know the exact number of floats," said STUCO chair member Morgan Ribble (10). "There were around 28 groups there, but I don't know how many floats. It ran pretty smoothly, but once it was over, it was like a weight lifted off my shoulders, pretty much."
After the parade, LHS's Homecoming Football Game took place against Fox High School's Warriors.
Saturday (Sept. 25) hosted the crown jewel of it all-the Homecoming Dance. But it wasn't what the school is used to seeing. Instead of the dance taking place in the gymnasium as per tradition, the 2021 Homecoming Dance got to make a first with it taking place outside on the football field. 
"I didn't think the outdoor dance was a bad idea," Pfieffer said, regarding the dance itself and what his favorite part of the week was. "We had thought about doing it before, like our other dances, just not pre-Covid. We would have had it in the commons parking lot, and had a dance outside after a football game, like actually having a dollar dance outside on the turf… With this one, I was up here in the commons letting people in with tickets so I didn't get to go in until it really started, and then whenever I walked down and I saw for the first time everybody dancing and having fun I was like 'Oh, that's cool!' That was probably my favorite part."
The dance was complete with a DJ and a 360° photo booth, and students were served complimentary pizza and drinks while they danced. Right under having the dance on the football field came the biggest shocks of all: students would not be able to wear heels or bring dates from other schools. The change angered most students, some even protesting to not come at all. Students who did attend, however, found the dance fun nonetheless. 
"It was really cold but I eventually forgot about it and still had fun as if it was a normal homecoming," said junior Francesca Kohrs. "[The week] was definitely more fun than freshman year because I got to participate in powderpuff and being a junior I feel like I could enjoy it more overall. However, I do wish we had the bonfire because that was super interesting freshman year."
Leave a Comment