Spreading his Story
A character analysis of Samuel Elliott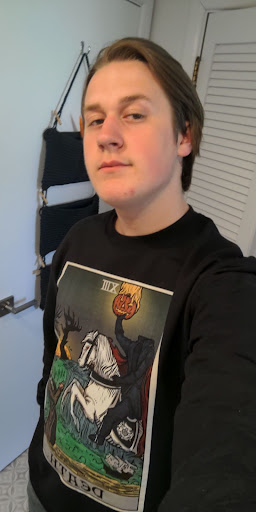 After 2 years on the Pilot Newsmagazine Staff, Samuel "Sam" Elliott (12) knows a little bit about how to craft up the perfect story– what with his 230 page draft of his aspiring book or the short collection of poems that he self-published on Amazon at the ripe age of 11. When it comes to writing, whether on or off PILOT, his handiwork pushes past the mark.
Elliott said he started writing when he was a  young naturally creative kid, and in realizing it was a good outlet, he kept doing it. He discovered his favorite author, Angie Sage, in elementary school when he was reading her popular book series Septimus Heap. Septimus Heap introduced him to the vast world of dark, high fantasy which, to this day, is his favorite genre to write in. 
"I love the worldbuilding aspect of it," Elliott stated, "making maps and just something original."
He hopes to make a career out of his passion for writing, as he's wishing to publish the book he's been working on for the past six months. However, writing isn't his only forte. Elliott said he has always been interested in meteorology: the study of weather and its forecasting– specifically natural disasters, such as tornadoes. If he had to choose anything else to pursue, becoming a meteorologist would be it.
"Yeah, Storm Chasers is kind of where it started," Elliott explained. "Me and my dad would watch Storm Chasers and I thought it was the coolest thing in the world."
Apart from these interests, he enjoys hiking with his family (whether it be a local trail or out of state) and reading; his favorite book series is A Series of Unfortunate Events. Further within the future, he would like to keep up a contented lifestyle and, if he does strike gold with his publications, perhaps move up north to continue his writing career in the mountains. 
"I feel like more people could get into writing if they gave it a try," Elliott remarked.
Leave a Comment