How Has COVID Made a Difference In LHS Football?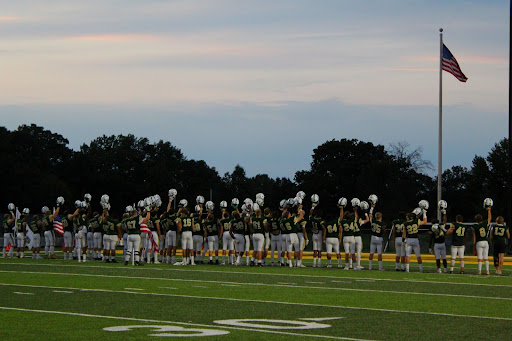 Although the battle with COVID has been challenging, the Varsity football team has been able to be successful and keep their record moving forward positively after an abbreviated season last year. 
Due to COVID restrictions, the Flyers were only allowed to have two spectators in the stands per player and all of the coaches and players were required to wear masks on the sidelines. Although their record was 5-2, their season was unfortunately cut short due to an increase in COVID cases. 
¨It was sometimes frustrating because I missed the cheers the student section would chant when we had a successful play or half," explains one of the captains, Ben Stelken (12). "It was also difficult because everyone on the team had to adjust to a ¨new normal¨ and take the restrictions into consideration to make sure we were being as safe as possible. That way we didn't have to end our season short but unfortunately it did anyway."
This year has been a great example of what spectators cheering can do for a team. With some guidelines lifted, students are able to be back in the stands, they're packed, and nobody has to wear masks while at the game. Even at away games, a good percentage of the crowd are Lindbergh Flyers fans. The team is 7-1 heading into the Senior Night game this Friday (Oct. 22) against Hazelwood West, with the only loss being against Ladue in double overtime. 
¨Having people back in the stands is huge,¨ Stelken said. ¨Thankfully COVID restrictions have decreased and we can have fellow students in the stands. Having students has been a huge difference and I look forward to every game because I can see my friends in the stands cheering me on. Even though last year we could have people in the stands, this year there are a lot more people which is a lot louder and more fun. Having the students back makes the games more fun because they bring more energy to the game and more hype.¨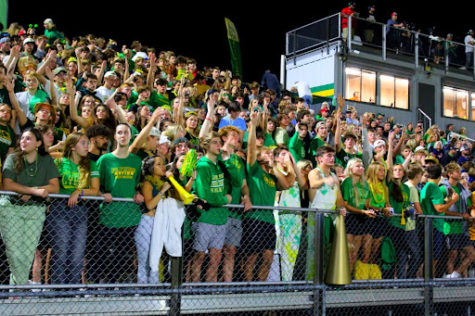 The Varsity football coach Nathan Norman agrees, having people in the stands again is amazing. ¨They bring great energy and we're blessed that we´ve had a great turnout this year, it's very much appreciated.¨ Norman explains that the kids, as well as himself, respond better with that energy in the stands. When comparing last year's team to this year's team, he said: ¨We´ve made so many changes, too many to think and talk about, they have grown so much.¨  This year is basically normal with the exception of not sharing water bottles still. The team is very grateful that they can play each and every week.
With only the game against Hazelwood West and a probable home game on Oct. 29 in the first round of districts remaining on the schedule, the Varsity football team hopes to finish strong.
Leave a Comment