Construction at Lindbergh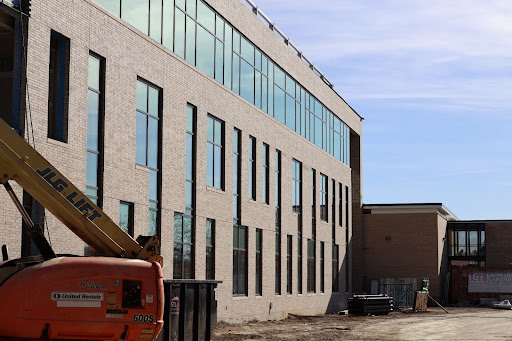 Although some things haven't changed at Lindbergh, others are changing before people's eyes.
At Lindbergh High School, construction has become a new normal for staff and students for more than a year now with no end in sight just yet. 
"Technically the turfing of the football field started in January of 2020 and was the first real thing we did. If you're talking about building construction, they started tearing down "stuff" in May of 2020. Theoretically it should be done by August of '23, so after next school year," said Dr. Eric Cochran, the high school's main principal.
The question on most people's minds is why so much money is being spent on a new school?
"The big reason for the one building is primarily safety, with the old campus there were 60 doors that could be opened at any given time and unlocked on our campus. This meant that anyone could theoretically walk onto our campus, walk into a door and nobody would be able to stop them and so with an inclosed, single-building campus, we can shut down all doors and have one point of entry per person when the day starts and that will allow us to put our security there, a check-in point there, and they'll come in through that location" explained Dr. Cochran.
Every once in a while students and/or teachers will be heard complaining that their classroom space is too small or is too crowded for students to comfortably work on the task at hand. This is a concern that's also being felt by the administration.
"I say all the time that when you walk down our hallways, you can see why we need a new building because every classroom has 3 or 4 kids sitting outside the room working on the floor. In the new building, we're going to have spaces where kids can actually sit on a couch outside a room and collaborate or in a small group room," explained Dr. Cochran. 
Also with construction, not everything was necessarily about safety.
"The last major reason is that all of the infrastructural pieces that feed this building, heat, air conditioning, electricity, they were all reaching the end of their natural lifecycle and they were all going to have to be replaced and it was much cheaper in a new building than to actually do that in an old building," explained Dr. Cochran.
One of the first major construction events was tearing down the Math building which housed most, if not all, of the Math classes as well as the teachers. Since then, teachers in all subjects have been shuffled around to the other two buildings to accommodate for space. Unfortunately, that meant that not everybody was going to be fortunate enough to have their own classroom. Some teachers have become Traveling Teachers meaning they travel from classroom to classroom. 
"This year being a Traveling Teacher has been hard because when you have your own classroom, all of the materials you need are right there so not having my own room, I have to move everything with me and that increases my chances of forgetting something. Also since I travel it's hard for kids to find me. Although it can be frustrating at times, I'm grateful that my students are patient with me and I'm patient with them. With that being said, I'm looking forward to having my own space in the new building not just for myself but also for my students," elaborated Amy Kaiser, a math teacher at Lindbergh and the math department chair.
Throughout this whole process members of the staff and administration are working to keep a positive attitude because they're excited about the new building as a whole.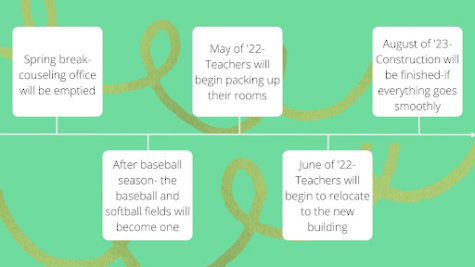 "The things that we don't currently have in our building and seeing how they become a part of the natural workings of our world like for instance the Black-Box Theatre, which I think is a really cool and exciting space, I think just thinking about how we will define the culture of this new building excites me," said Dr. Cochran.
Members of the freshmen class will be able to be in the building the longest of the current grade levels. Freshman Noah Reinbold expressed his excitement for the new building.
Although the Construction is a work in progress and will be for the next foreseeable future, the finished product is sure to be worth the wait.
Leave a Comment