Taco 'bout Joey Haberberger
11th grader shares his love for Taco Bell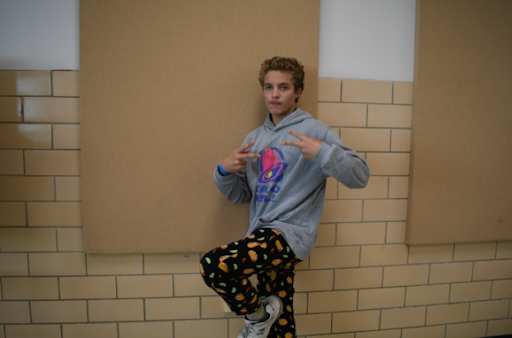 "Live Mas," Taco Bell's iconic slogan translates to "live more" and junior, Joey Haberberger, seems to live out his life with this slogan. Joey is known for his love of Taco Bell from his friends to teachers. To him, Taco Bell is a way to reward himself for getting through his shift at his job. Joey emphasized just how satisfying getting Taco Bell at the end of the day or after a long work shift is in his case.
"I love Taco Bell. It's so good. I don't actually know why, but I love it so much. Okay, you got to go there like, one in the morning after you're done working a really long shift at Fitz, and you're driving around and you're like, I'm hungry and I don't want to wake up my family when I get home. And you drive by Taco Bell, and it hits different," he said.
When he has a craving for the fast-food taco chain he knows exactly what food choices he is going to pick.
"Oh, my God. What do I get? Everything. $5 cravings pack. It best deal in all of the fast food. It's a hard taco, beefy, five-layer burrito, Baja Blast, nachos, little mini churro things, and then normally it's a loop. $5. Just tell me that's not a good deal."
The one thing he said he couldn't be sure of is how his love for it started.
"I don't know. I don't remember. It's like a blackout part of my life, and it just happened. But I love it," he said.
Surprisingly, Joey said he doesn't consume Taco Bell as much as expected. To him, it's more of an award than an everyday occurrence. Joey thinks highly of Taco Bell and believes that everyone that hasn't tried it should have an open mind towards the restaurant because it's not only about the food, it's also about the unforgettable experience as well. 
"I don't go there a lot because it isn't the most healthy food for you so I have to watch how much I go there but it's an unforgettable experience because the flavors always surprise me," he said.
He believes Taco Bell should get more praise even though it seems like an average fast-food restaurant, for him it holds so much more substance. He feels that it's a place that represents comfort with its unfiltered atmosphere that doesn't feel superficial. 
"I would say, don't talk trash on it before you try it because it's fire. Like, you go there and the workers are nice and sweaty and they're like, we'll cook {for} you. And then you're like, man, I feel at home."
Leave a Comment